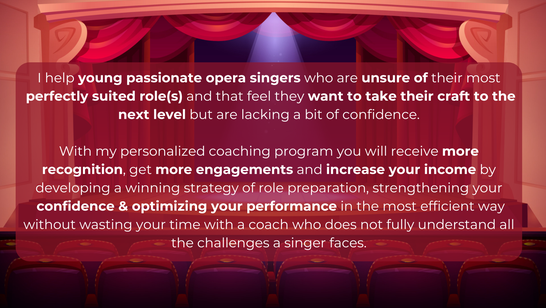 ---
Are you a young passionate opera vocalist ready to embark on a transformative journey to master your signature role?
If you're eager to learn, open-minded, ambitious, and a team player who dreams of captivating audiences (even if stage fright occasionally knocks), then it's time to take action! 
Join my exclusive coaching program today and let your operatic journey soar to new heights. 

Your stage awaits, and I am here to help you shine!
---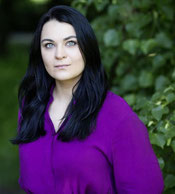 "The coaching sessions with Maestro Plasson (not to mention singing under his baton!) really make us singers use our breath and body and help put all our hard work in the practise rooms to the service of the music, dramatic context and moment. I felt myself strongly that way as well as observed that effect on my colleagues. Every detail Maestro points out is in the end always about the character. I think it is rather rare to have a conductor or a vocal coach so entirely committed to help us, singers, be better and more committed singing-actors on the stage!
Maestro Plasson is also an extremely warm and giving person. I always left our working sessions with a very good feeling of having achieved something and really improved myself. The academy not only gave me a deeper insight into the French repertoire and another layer to my arias, but I felt empowered having sung under his baton! Evoking that kind of a feeling in a young musician is truly priceless and speaks highly of Maestro Plasson as a conductor, pedagogue and human!"
Ireene - mezzo-soprano
---
My unparalleled vocal coaching program is designed to elevate your operatic career. With this coaching, you will gain the expertise needed to not only sing a role but to truly inhabit it, mesmerizing audiences and leaving a lasting impression.
What sets me apart?
I am honored to serve as your mentor and guide, bringing to this coaching program over 35 years of international experience in conducting numerous operas across diverse repertoires worldwide.
My aim is to share the wealth of knowledge and insights I've gained throughout my career to help you excel in the world of opera.
The comprehensive curriculum comprises:
Analyzing Your Voice and tone - Finding Your Perfect Role
Polishing Your Repertoire
Exploring the opera in depth as a whole and truly understand your part in it and its relationship with the other roles involved
Exploring Composer and Historical Context
Perfecting Stage Presence and Positioning
Interpreting the Role with Depth
Building fruitful relationships with orchestras, conductors and stage directors
Excelling in Auditions
Enhancing Your Confidence
Fostering Exceptional Work Ethics
effective collaboration with your artist manager when it comes to choosing roles and evaluating performance offers
Lifelong Support:
After the 2 to 3 months coaching program concludes, you will not be left on your own.
I will provide ongoing support, ensuring you can confidently perform your signature role in any engagement.
Questions? Concerns?
I am just a message away.
1:1 Personal Coaching:
Experience personalized coaching with direct attention from myself. Weekly calls will track your progress, address your queries, and fine-tune your skills.
This program is tailor-made for opera singers who aspire to be more than just performers.
It's for those who aim to be storytellers, immersing themselves in the heart and soul of their roles.
By the end of this coaching, you won't just sing a role - you'll live it, breathe it, and effortlessly bring it to life.
Seize this extraordinary opportunity to transform your operatic journey with "Master Your Signature Role" Vocal Coaching. 
Unleash your potential, captivate audiences, and make your mark in the opera world.
To ensure the highest quality and personalized attention in my coaching program, i have limited availability. To secure your spot and embark on this transformative journey, it's essential to apply for the coaching here.
---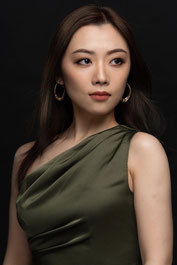 "As a participant in his French Music Academy 2023, I had the privilege of witnessing Maestro Plasson's exceptional knowledge and dedication.
Maestro Plasson's profound understanding of French music traditions, along with his dedication to excellence, created an unforgettable experience of both studying and working. Maestro Plasson's approach to French diction was intelligent, making even the most challenging aspects feel effortless.
Beyond his musical prowess, Maestro Plasson's leadership and interpersonal skills fostered a collaborative and respectful environment. His enthusiasm and encouragement inspired us to strive for greatness.
I wholeheartedly recommend him, confident that his remarkable abilities will inspire many singers and benefit the theaters."
Hanxiao - Soprano
---
Duration:
ca. 8 - 12 weeks
Content of the coaching:
- analysation of your tone and voice in order to finding your perfect role
- in depth exploration of the opera
- in depth exploration of the composer and historical context
- stage presence and positioning on the stage
- interpretation
- musical theory if needed
- effective relationship building with the orchestra, conductor and stage manager
- audition training
- confidence and mindset
- work ethics
- effective collaboration with your artist manager
---
includes 6 live coachings
in Berlin, Germany
(charges for room hire & pianist included)
---
* Money-Back Guarantee
I am so confident in the transformative power of my coaching that I offer a no-risk, 100% money-back guarantee. If, after the initial sessions, you are not completely satisfied with your progress and the value of my coaching, simply let me know, and I will refund your investment in full, no questions asked. Your satisfaction and success are my top priorities, and I stand by my commitment to helping you achieve your operatic goals. Start your coaching journey with confidence, knowing that your investment is protected by my money-back guarantee.